Waterproofing materials
P-800 Concrete Reverse Osmosis Plugging Agent
This product is a water-based, solvent-free creamy penetrant that is capable of permeating concrete up to several centimeters through reverse osmosis (the penetration depth depends on the cement content). It is capable of long-lasting maintenance of the external appearance and prevention of efflorescence without affecting the physical properties of building structures (such as air permeability). It also inhibits the breeding and contamination through microorganisms such as algae and moss.
【Uses】
Reverse osmosis treatment of basement walls, roof plates, and atrium floors to plug leaks and prevent seepage.
Reduction of the water absorption rate of building structures and prevention of efflorescence generation.
Film-free, long-lasting waterproofing effect on the surface of fair-faced concrete (without changing the appearance).
Reverse osmosis treatment of external walls of building structures and roof concrete (roof plates) to stop water seepage; rapid solution to leaking bathroom without removing tiles.
【Reminders】
Remove all coatings (e.g., cement paint, putty must be removed through grinding or scraping), objects, dust, and loose material from construction surfaces.
Silicone and adhesive strips should not come in contact with P-800 to prevent unbonding or detachment.
Construction surfaces must be kept dry to facilitate penetration (a curing period of 28 days must be allowed for newly poured concrete).
Application of the liquid to raw concrete facades prevents algae formation, and when followed by P-725 Photocatalyst Self-cleaning Antifouling Agent, dirt resistant and self-cleaning effects are produced.
After plugging of leaks in bathrooms, bathroom use may be resumed after 3 days; in case of efflorescence treatment, putty and paint must be applied on the following day.
Upon coating and penetration treatment of tiled surfaces in bathrooms, remaining undried material may be wiped off with a dry cloth after around three days (detergent or dishwashing liquid may be utilized).
【Method】
【Packaging】
1kg / 3kg /plastic drum (use up within one month after opening, store in a dark and cool location at 5-30°C)
【Coverage】
Around 0.3-0.6kg / m², (determined by surface density and water content), it is not recommended to apply a second coat.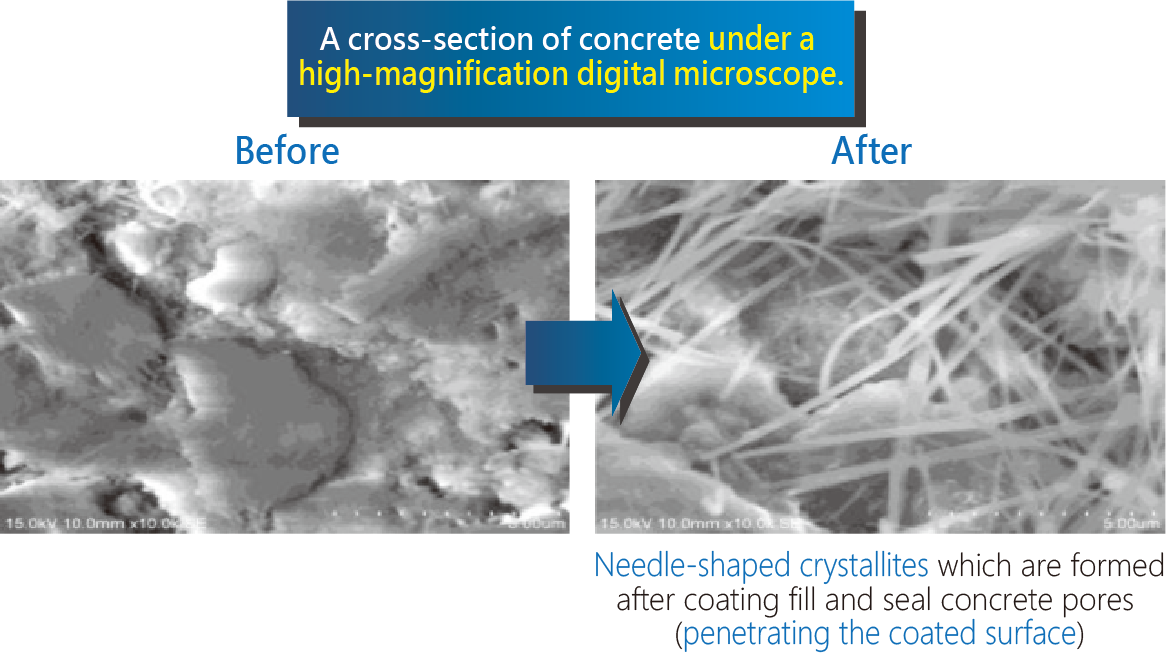 Tiled bathroom floor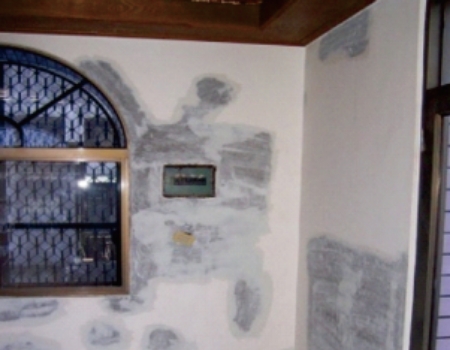 Efflorescence removal